---
Fishing boat for Guadeloupe
---
What kind of fishing boat for Guadeloupe ?
There's two reasons why I've decided to equip myself with different boats that complement each other. Of course, I did it to have more options and adapt my fishing to the conditions (season, weather forecast, type of fishing, number of fishermen onboard). But it's first and foremost to be flexible so as to make my fishermen happy !
---
The MITZI SKIFF 17″
---
It's an an American model that was specially designed for mangrove fishing. Its incredibly shallow draft (6,3 in) enables to reach the best spots effortlessly and do some really good sight-fishing. Once the engine is turned off and out of the water, I stand at the rear, perched up on a little 'platform'. The great advantage of my position is that I can search the waters for fish with superlative view of the spots. Also, I pull my skiff with a carbon pole and can get closer to the hotspot without a noise. At the front, you stand on your own 'platform' just above the water. It's large enough so you can enjoy tip top conditions to cast. This boat offers great stability and comfort. No skiff compares with the Mitzi Skiff 17'' when it comes to sight-fishing on lures or flies !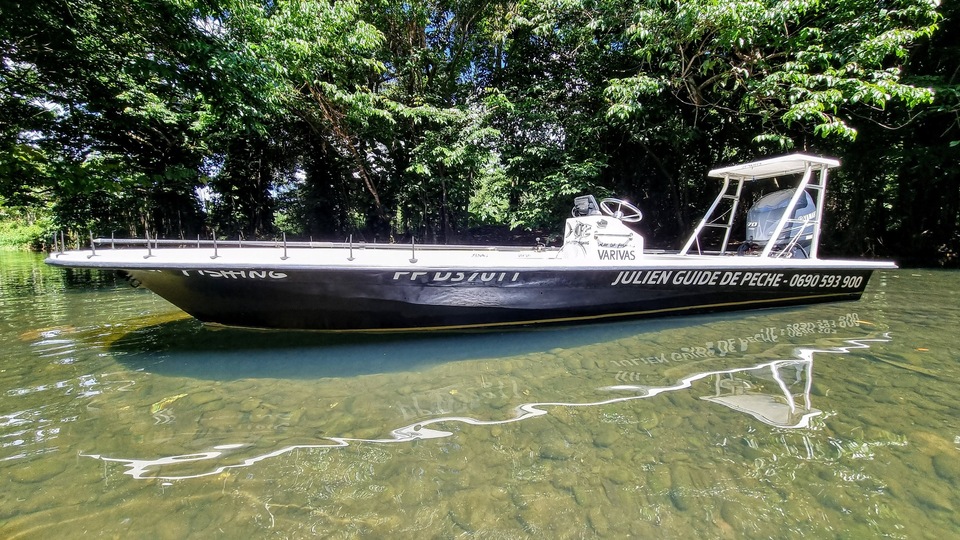 ---
---
WELLCRAFT
---
Here is another boat that comes to us from the USA: the Wellcraft. This American firm specializes in the design of motor sport fishing boats. Their aerodynamic profiles are designed to optimize navigation speed. This is definitely interesting when you have to change fishing place! The hull is less flat and the draft a little greater than on the Mitzi Skiff. It has a more marked bow at the front. All this allows the boat to behave better against small waves in the lagoon. Like my Mitzi Skiff, it is equipped with a carbon pole to fishing the flats discreetly.
At the front, we have also installed a high-performance electric motor suitable for the sea: the Minn Kota Terrova, powered by a latest generation lithium battery from Boat Box System. Which makes him a nice weapon in all fishing configurations. Indeed, this new way of propulsion gives us several possibilities: discreetly going up a channel or a river, holding a drift in the lagoon around a point of activity, following an edge in an optimal way… This is definitely our most upscale boat.
---
---
PINEAU ACHAM 6.30
---
The Pineau Acham 6.30 is more suitable when the sea is a bit rough. It was designed at a local shipyard. It is suitable for up to six fishermen and heavy enough to take strong winds. So, it's well-adapted for drift-fishing. It's a reliable boat for bottom fishing in the lagoon ('scratching' the bottom with the lure) and light trolling. It's well adapted for casting in the shallows too. On this boat, I can also treat you to a trip around the 'Grand Cul- de- Sac Marin'.
Another option is to set out for a fishing session in more remote spots so you can to try your hand at pelagic species. The drop-offs in the lagoon are great for heavier casting and jigging. Well, to sum it up, this boat is a hundred percent safe and reliable to try a wide range of techniques and… have fun !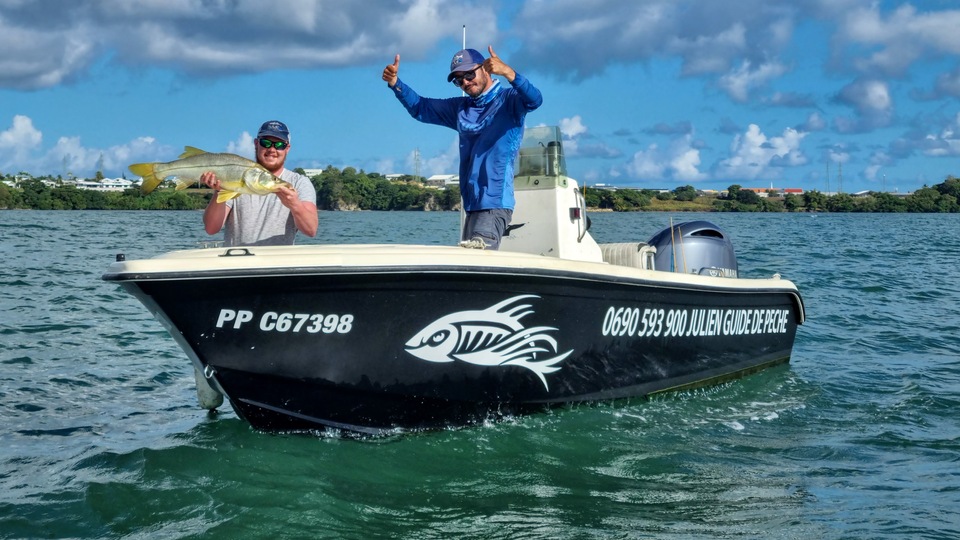 ---
---
THAZARD : Local fishing boat
---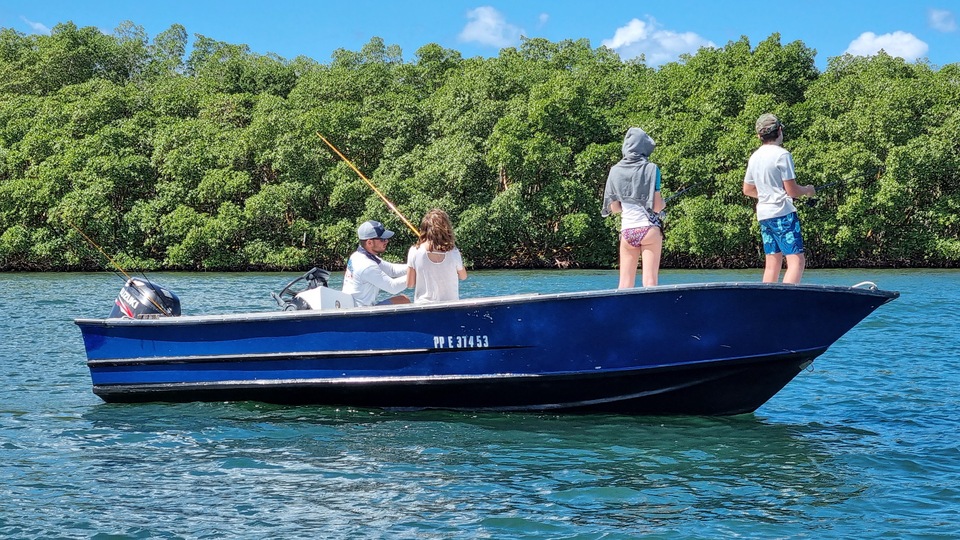 Thazard is my very first boat. He no longer counts the hours spent sailing around Butterfly Island. It is build here in the Carribean ('Saintoise' model) and was specially designed to roam our seas. Reliable and versatile, it's a real all-terrain boat that goes everywhere. It takes us as much inside the mangrove channels as behind the coral reef. Navigation aboard thazard is quiet, even through the waves of the lagoon. Comfortable and spacious, we can board 4 people. This is perfect for a group of friends, a couple with children or for outings as part of our fishing school.

---
---
Our services on our boat in Guadeloupe :
Phone : (+590) 06 90 59 39 00
E-mail : julien.guidedepeche@gmail.com