---
FLY FISHING IN GUADELOUPE
---
Not many people know that ther is a great potential for fly-fishing in Guadeloupe. And yet it is blessed with pristine and magic spots. So, we're lucky enough as we have little pressure. You'll be spoilt for choice ! Among others, the shallow waters in the mangrove and the flats in the lagoon are great playgrounds to indulge your passion. Also, the mythical species targetted by fly addicts – bonefish, snooks, baby tarpons and even permits- are abundant here. It's every fisherman's dream to hook at least one of these species on the fly.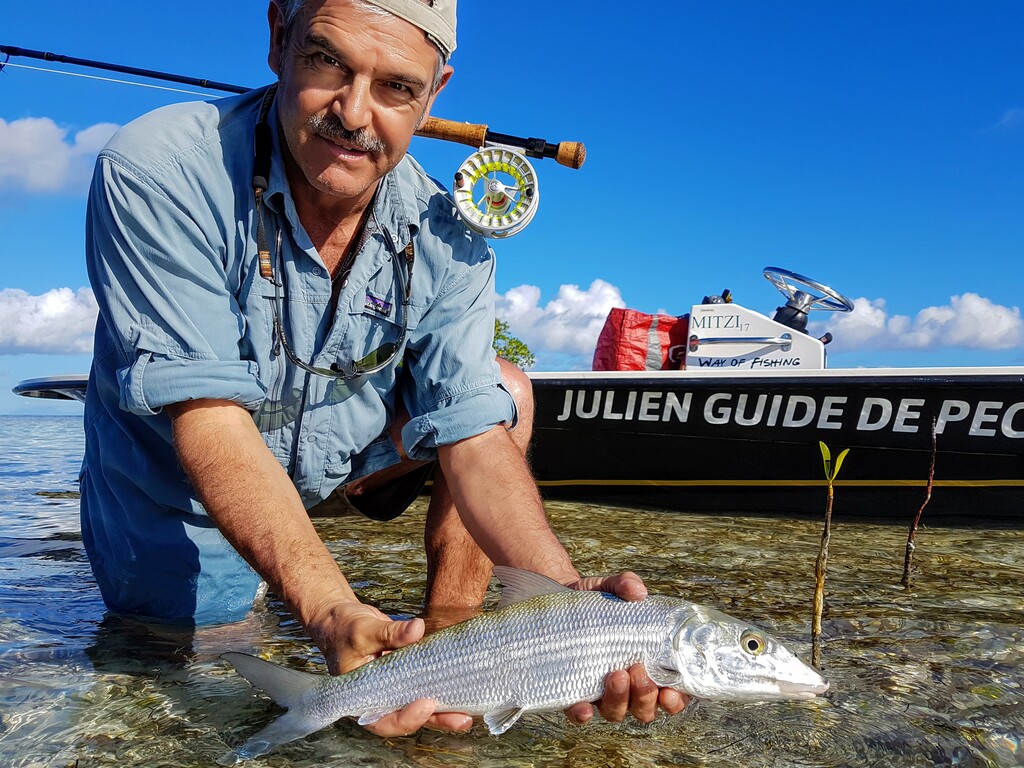 ---
FLY FISHING APPROACH
---
We fish these waters on my flat-bottomed boat (Skiff). I stand at the rear and pull it with a carbon pole. A discreet approach always pays off. As I stand perched up on my platform at the back , I can secure the best angle to spot the fish and point to the right direction. And now … off you go! A fine cast, a proper stripping to hook up the fish and… boom ! Fish on ! Fish on !
The Mitzi Skiff 17'' was specially designed in Florida to fish the mangroves. When it comes to fly angling, this boat is outstanding. Its shallow draft (6.3 in) and stability ensure promising catches.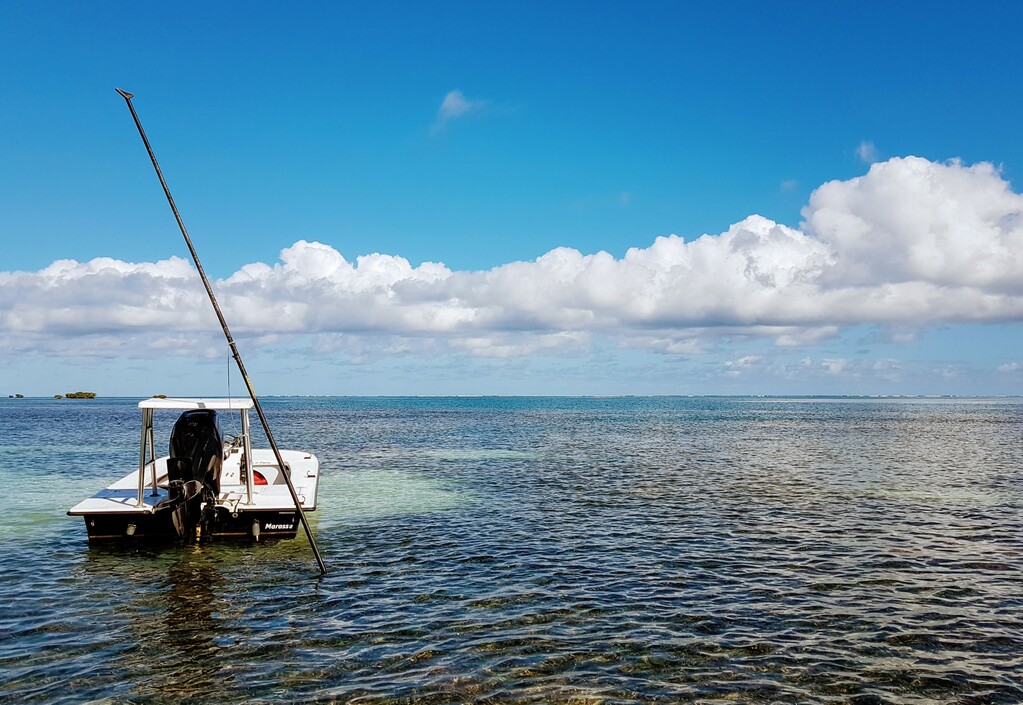 ---
THE FISH WE TARGET ON THE FLY
---
Bonefish
This is probably the most sought-after species by fly addicts in the Caribbean. In Guadeloupe, they are abundant year-round. Good size bone fish are not uncommon here. A few personal records were beaten on my Skiff while I was guiding. Now, let's talk about the fishing tackle. A fly rod, an 8'' silk line and a reel filled with backing will do the job. Flies that look like crabs or shrimps will no doubt make a difference and lure the fish. Fighting a bonefish is a unique drag-testing experience as this guy is probably one of the strongest fighters
---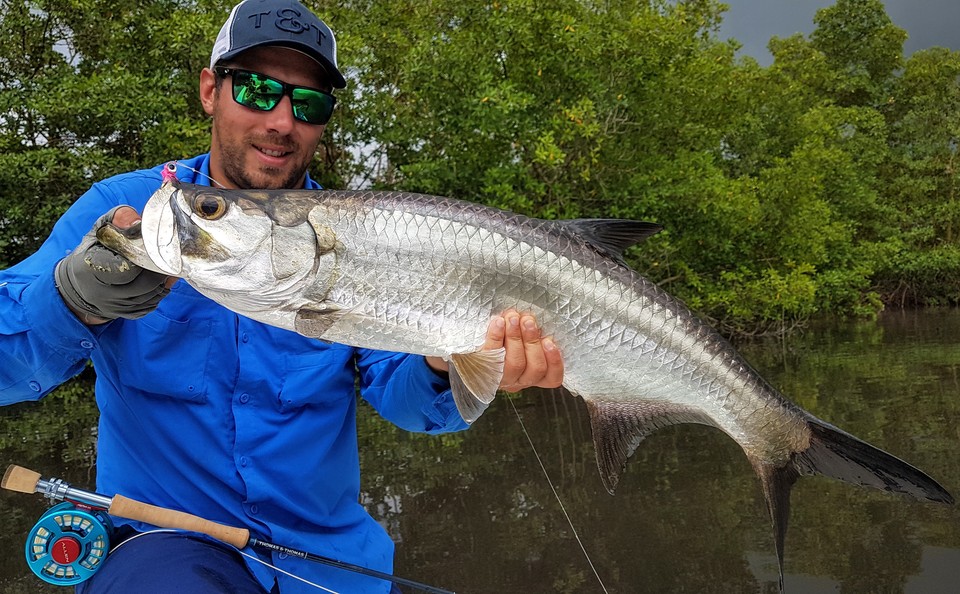 Baby tarpons and snook
It's fun to fight these two species. Keeping them pinned through their aerial acrobatics is a real challenge.. When you fish the mangroves, a stealthy approach is absolutely necessary not to scare this wary fish. Of course, sight-fishing is fun when weather conditions are favourable… I would strongly recommend a 9'' silk line to stop strong fish on their first run. You stand very good chances of luring these great robust predators with streamers of different sizes and colours.
---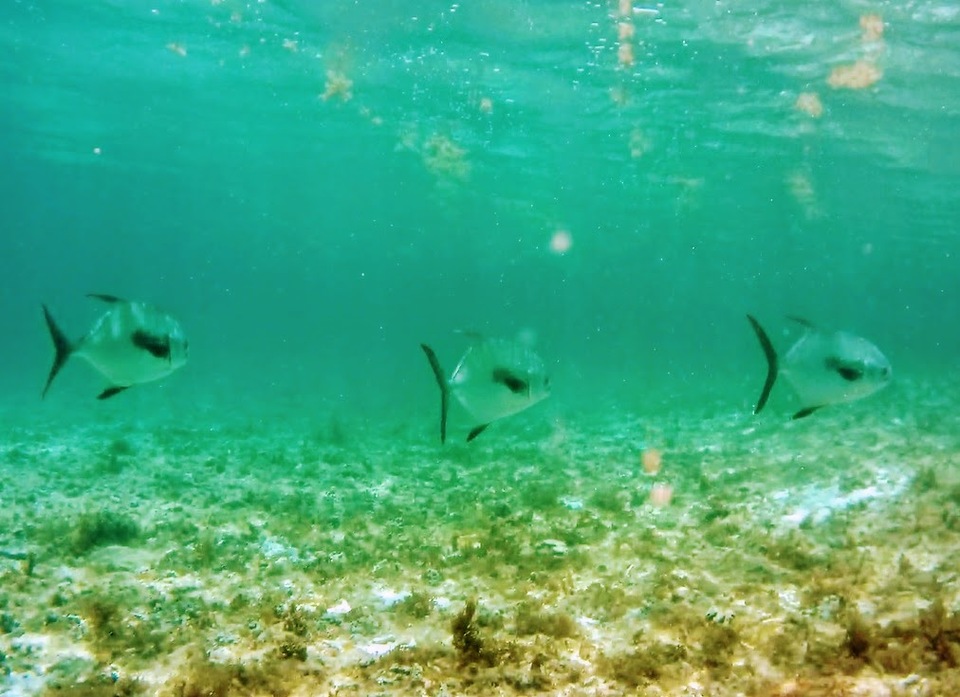 Permits
We also have this species here and they are often large-sized fish. They lurk in shallow reefs and so you have to be very reactive and keep your fingers crossed. Otherwise, the line will just….snap.
---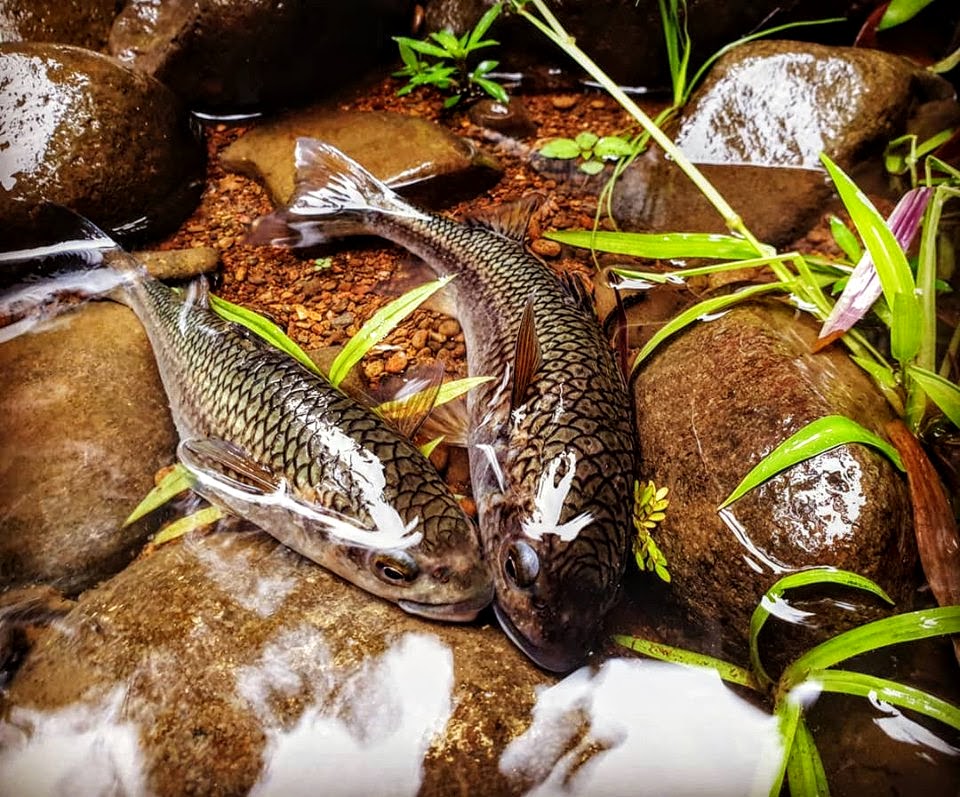 Freshwater
Freshwater fish exist and we also use fly fishing in the rivers of Guadeloupe. By the way, I invite you to visit the freshwater fishing page.
Opposite, you can see two "mounain mulets", endemic species to the island.
---
All the tackle you need is available on board. I lend you high quality gear from my partnership with "Mouches Devaux"
---
Come and discover fly fishing in Guadeloupe
Phone : (+590) 06 90 59 39 00
E-mail : julien.guidedepeche@gmail.com