---
Guadeloupe spinning fishing tackle
---
When you fish with lures, holding a rod that's well-adapted to the conditions and the environment is very important. It also depends on the fish you target. For me, 'feeling' the fish at the end of the line is a must. Of course, it's equally important to land it but landing it on top quality light tackle will give you an even greater buzz ! You will have the opportunity to test superlative tackle. Some anglers may already have their own favourite gear, rods and lures. They are welcome onboard with it, of course ! In Guadeloupe, the conditions and the environment can vary greatly from one spot to another. And so, our tackle should be adaptable. They must be suitable for long-distance casting, heavy hooking. They will cast light lures but they should be strong enough to stop powerful fish. I have a partnership with 'Way of Fishing'.
---
Here's the tackle I have on board :
---
WAY OF FISHING is my main partner. Here is a selection of their spinning fishing tackle for guadeloupe
---
---
Benkei FLE
They are reliable, short, very sensitive rods and provide a crisp tip action. They come in different strengths (5/21 gr and 10/30 gr) and they will 'do a good job' in many different situations. Their reserve power is good enough to cast light lures and hook tarpons efficiently, for example.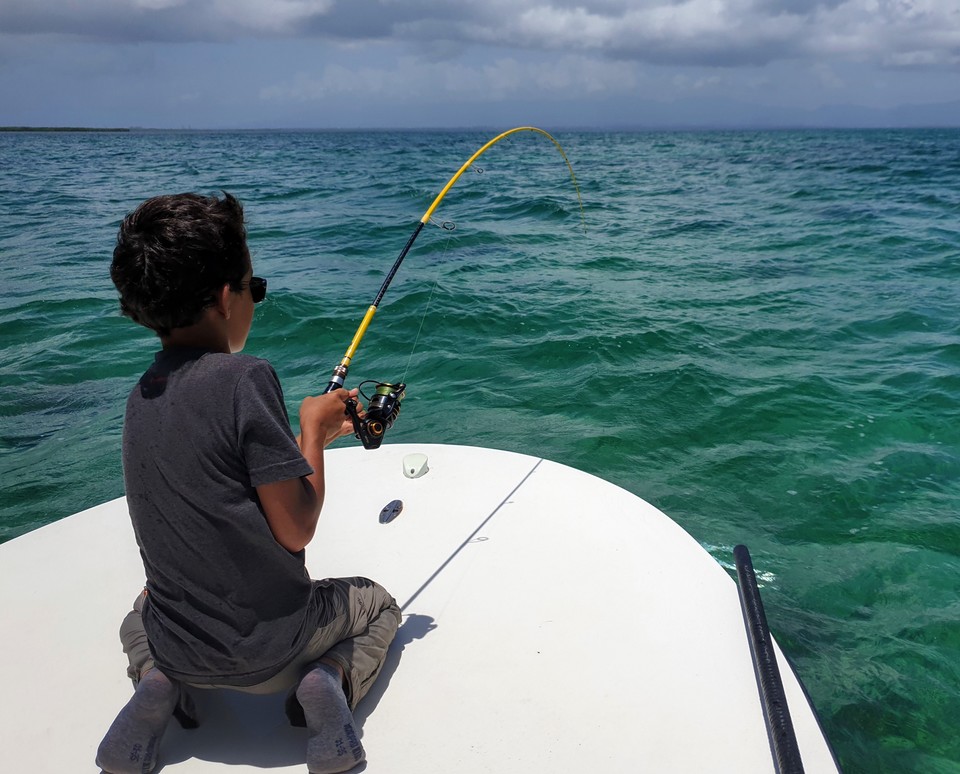 ---
---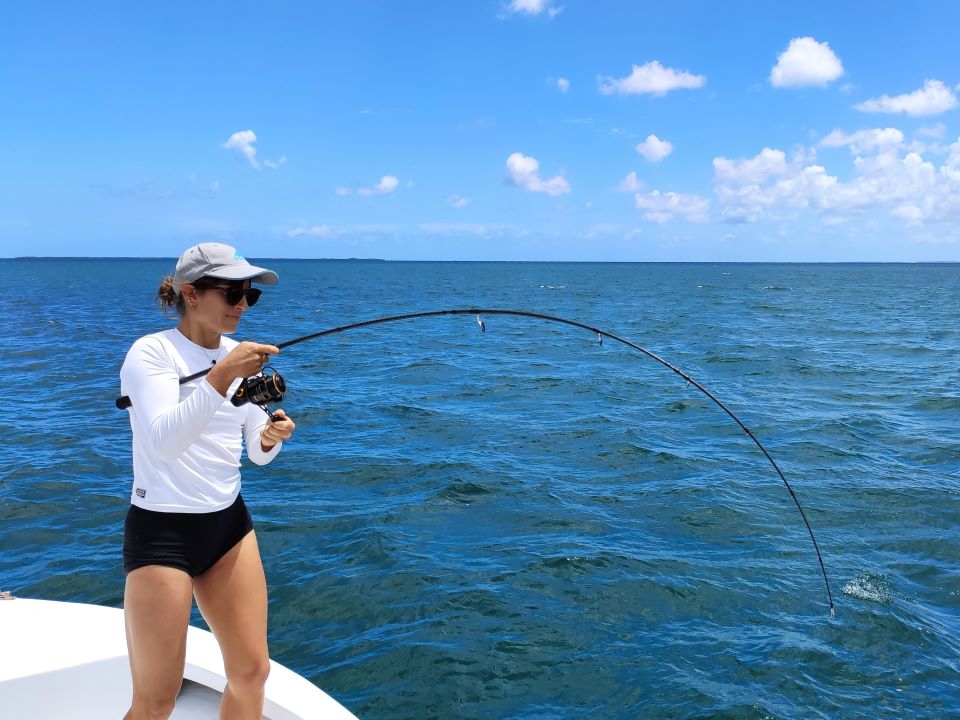 Bone Voyage 4 pieces Rods
Bone Voyage rods are high quality 4-piece rods. No more travel tubes on the plane, you can bring them easily into your suitcase. We use them daily in Guadeloupe. Their wide and well-stocked range makes it possible to deal with different type o fishing, from bonefish to tarpon and our beautiful trevallies!
---
The JACKSON lure range
---
These top quality lures are made in Japan. They will catch fish like no others and can even seduce the most wary species. The question is 'what makes them so uttterly irresistible ?' Well, the Jackson lure designers do not go with the flow and they are keen to innovate. For instance, they design silent lures at a time when noisy rattle lures are the latest fashion. They design fast sinking lures when lure enthusiasts get more and more addicted to floating or suspending lures. In addition, their lures stand out as they come in different colours and shapes. No freshwater or saltwater species in Guadeloupe has been able to resist !
---
70/80 and 105 Artist FR : the top- of- the-range mut have lure
These silent twitching lures are remarkably fast and lively. They are easy to cast and sink slowly showing their sides. Whether you work them fast, slow or jerk them, they are equally 'lethal weapons'. Fish also grab them when you stop and go. Also, they can attack them right away where the lure falls. They work very well for tarpons, barracudas, jacks and snooks aswell. They come in different sizes but they are all equally efficient provided you have a rod that is fit for the job. Natural, shiny colours, pink, blue and red are well-adapted to fish here.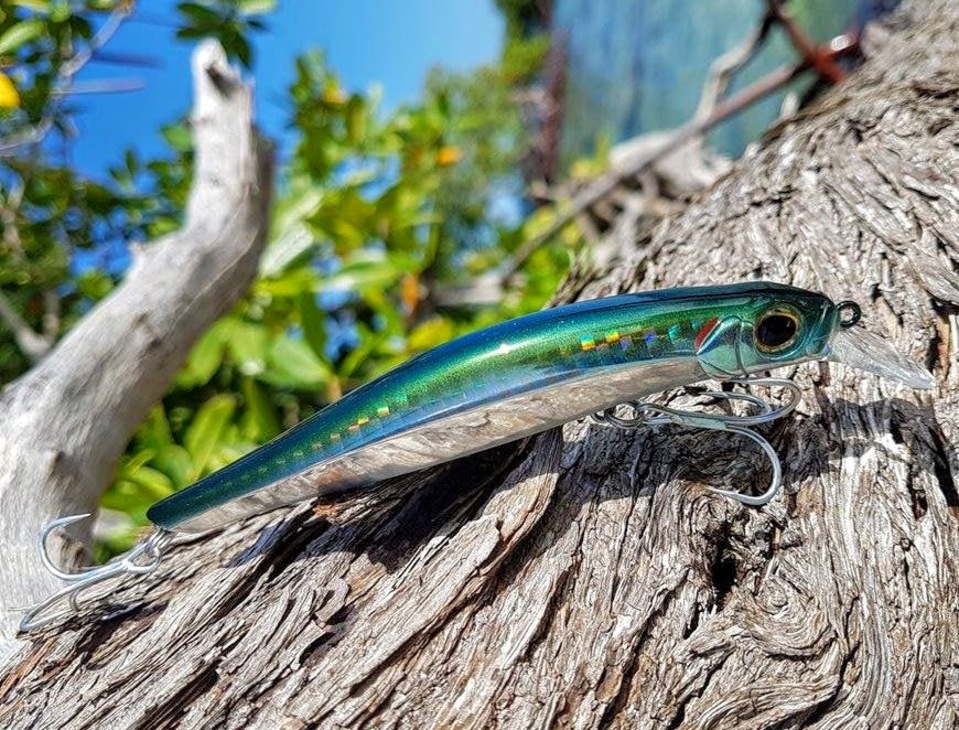 ---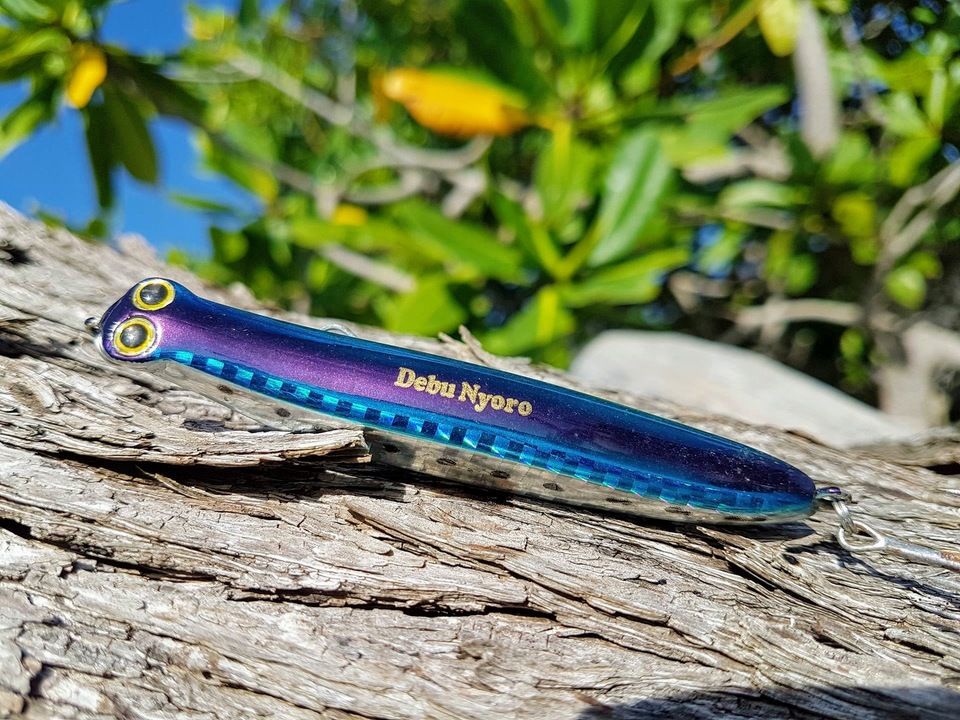 The Debunyoro and its erratic swimming
This superb lure is slow-sinking. So, you can retrieve it fast or slowly. Its uneven, erratic swimming is very tempting for predators like barracuda, dentex, jack and tarpon. You can work it in many different ways. It weighs 13 grams and it is a bit more than 3 in long. With its compact design, it is easy to cast. It comes in different colours. All of them are well-adapted to fish in Guadeloupe.
---
Pin tails (48, 35 and 20 grams) : the best casting lures
Sustained winds frequently sweep across Guadeloupe (They are called 'Alizés'). Casting the lure far away with headwinds is not easy. The Pin Tails are remarkably compact. They cut the wind.That's why they are so adapted to long-distance casting and enable us to scan a larger spot more rapidly. They're incredibly easy to cast. It is also very useful to probe deeper waters. A swimbait that can reach the bottom is bound to be a great 'catcher' in Guadeloupe. This lure is well-adapted for barracuda, jack and dentex. It comes in different colours that are equally attractive. The 20 gr and 35 gr Pin Tails are suitable to fish the mangroves and the lagoon.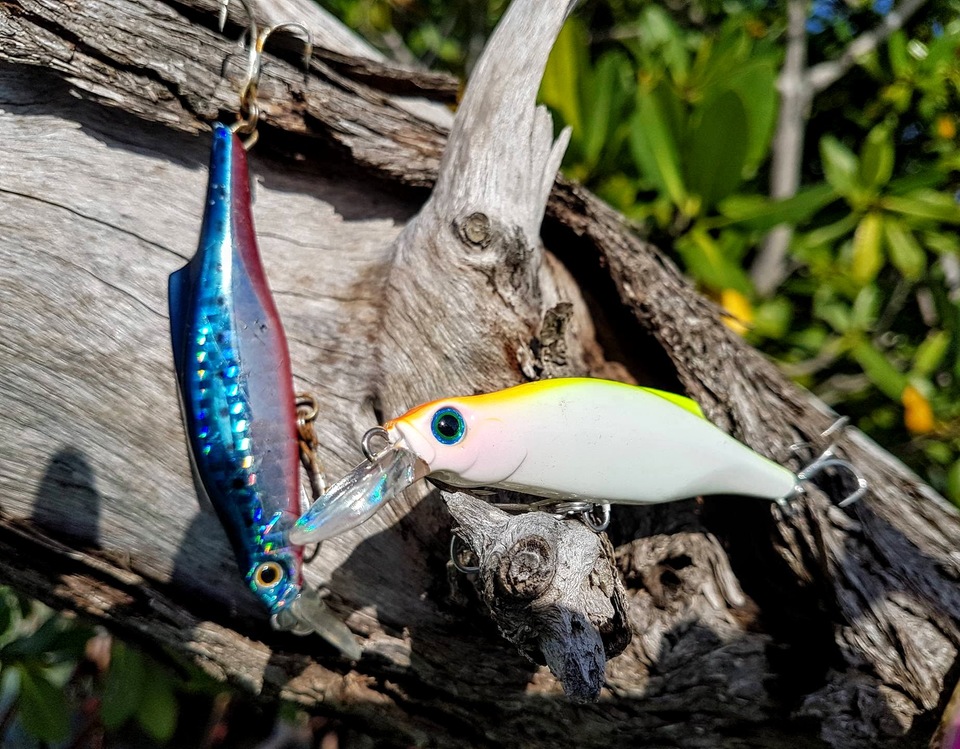 ---
---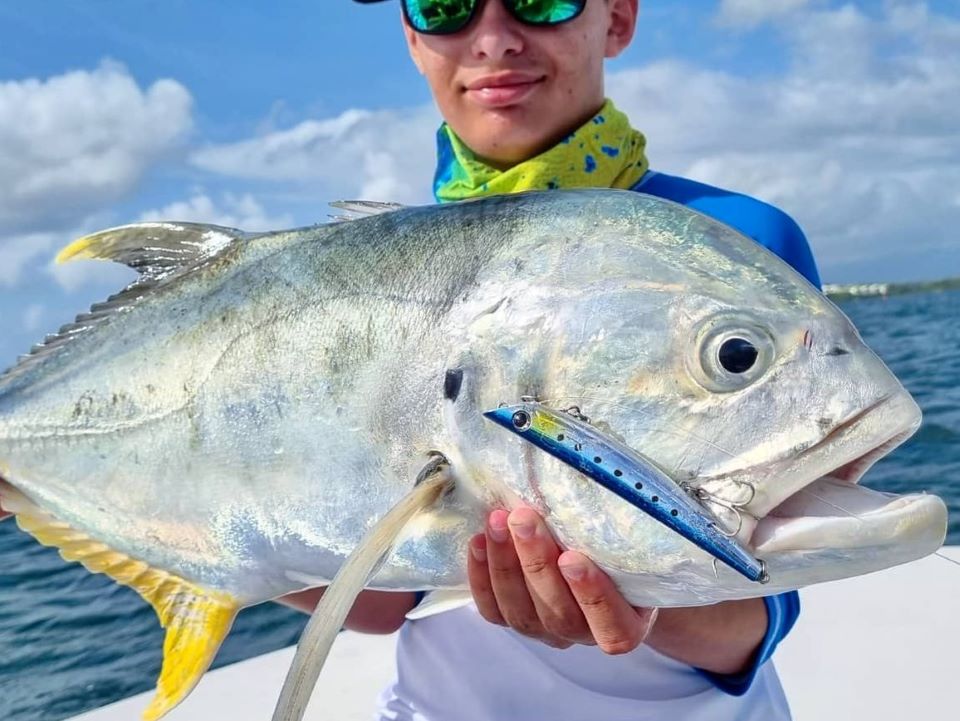 POPKEY 80, 100, 120
The popkey is a floating stickbait from IMA. It literally glides over the surface and can support fast speed retrieve. It perfectly imitates prey trying to get away off the surface. No need for great technical skills to animate it and make it effective, this lure is very suitable for beginners.
---
HONEY TRAP 70S et 95S
The Honey Trap is a lipless minnow that catapults long distances. It swims in an "S" style when it is retrieved straight. You can also "jerk" it. It is used both for trolling and casting. A real versatile lure.
---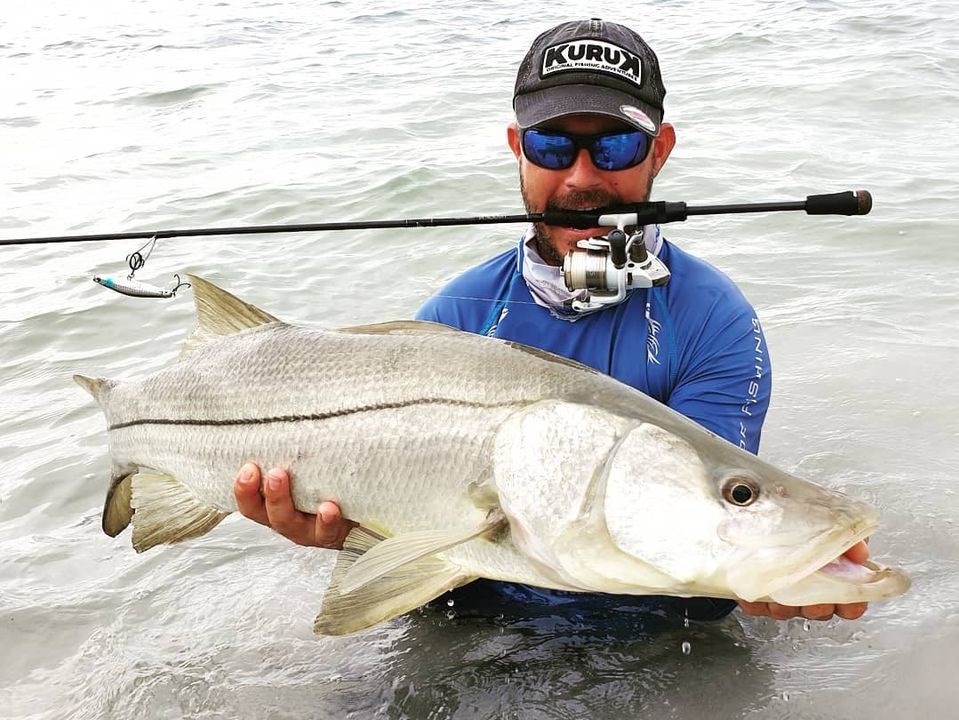 YOICHI 99
Like the Honey Trap, this lipless minnow has reached real records in casting distance. Stop and go, straight or simply animated with tip strokes, it is effective in different depth of water. It's up to you to choose the swimming depth.
---
---
Shad
The Keitech range of lures is oustanding. Very often standard softbaits are dipped in or coated with a booster. As it is only a surface booster, it doesn't take long before the lure loses its attractiveness. On the contrary, the Keitech soft lures are literally made of a natural booster. Squid is mixed with the other 'ingredients' of the 'receipe'. The great difference is that they never stop being attractive as they keep sending strong olfactory signals to the fish. They can make a real difference, especially when predators are picky.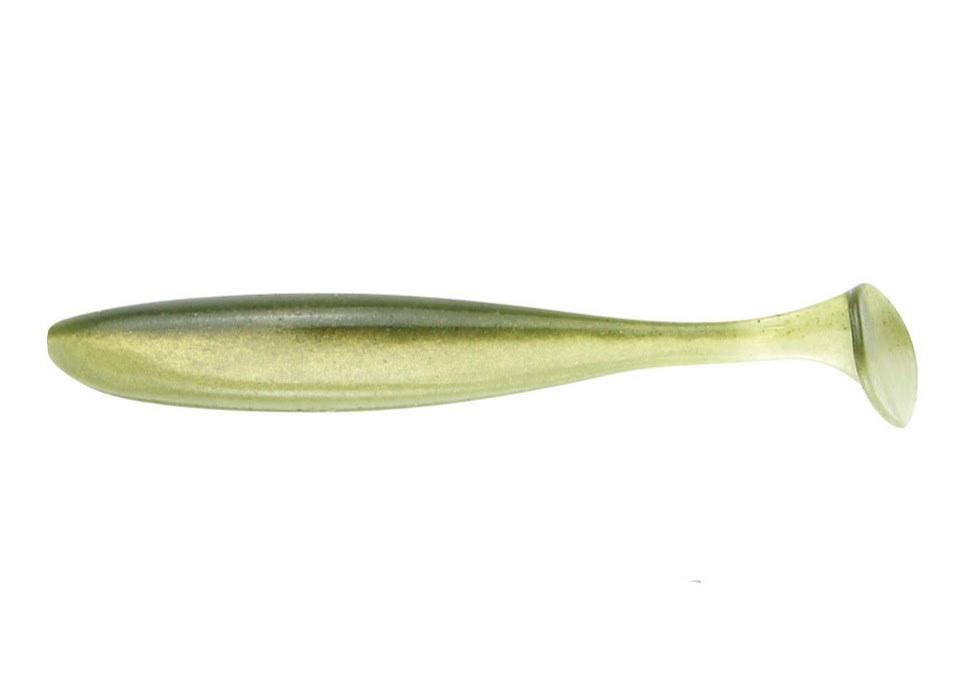 ---
Finess
In addition, these outstanding swimbaits have the ability to maintain a perfect swimming motion at any retrieve speed. Light or heavier sinkers don't affect their great swimming ability. Even when you work it very slowly, the caudal fin of the Easy Shiner still vibrates and the thin tail of the Shad Impact splashes water. Fish just can't resist !
---
---
REAL CRAW 1,5 et 2″
FISH UP is a Ukrainian brand which also offers a nice range of soft lures. In addition to the shad and finesse lures, small creatures complete our gear. One of them, the real craw, an imitation of a small crayfish, is a real bonefish magnet.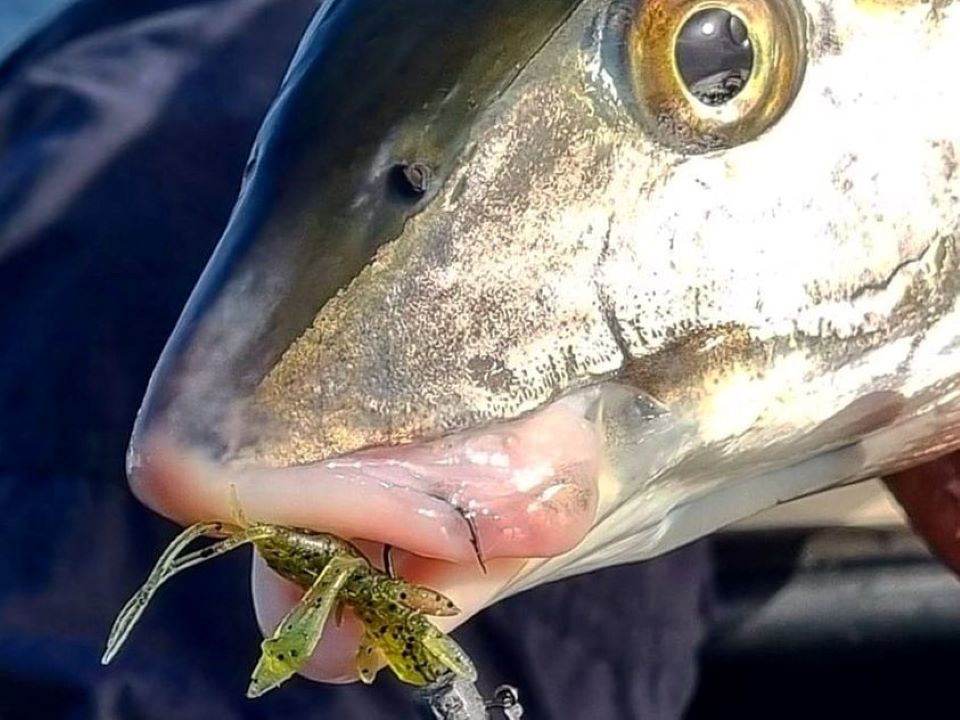 ---
VARIVAS fluorocarbon and braided lines
---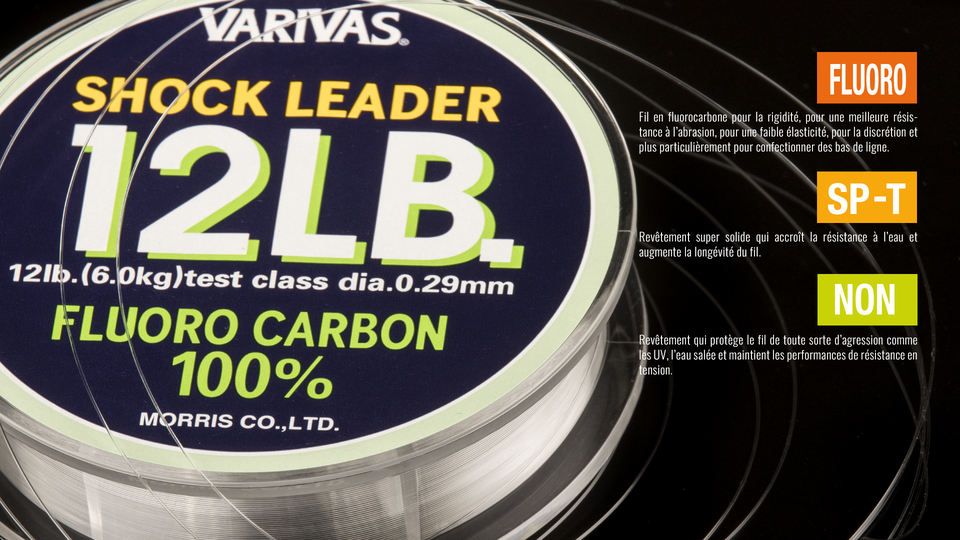 Varivas lines are proven products. They are well-adapted to our local fishing conditions. Fluorocarbon is rigid and strong. It is often used when fishing rocky bottoms. Braided lines are excessively strong and very thin and so they are used for long-distance casting or to cast as accurately as possible.
---
---
ATC VIRTUOUS REEL
Solidity, durability and serious brakes, the ATC Virtuous reels correspond to my use in exotic fishing. Indeed, they easily cash the number of outings and the possible clumsiness of beginner fishermen. The few wearing parts to be changed are easy to replace. In addition, they are light and fun on small fish and easily resist larger specimens.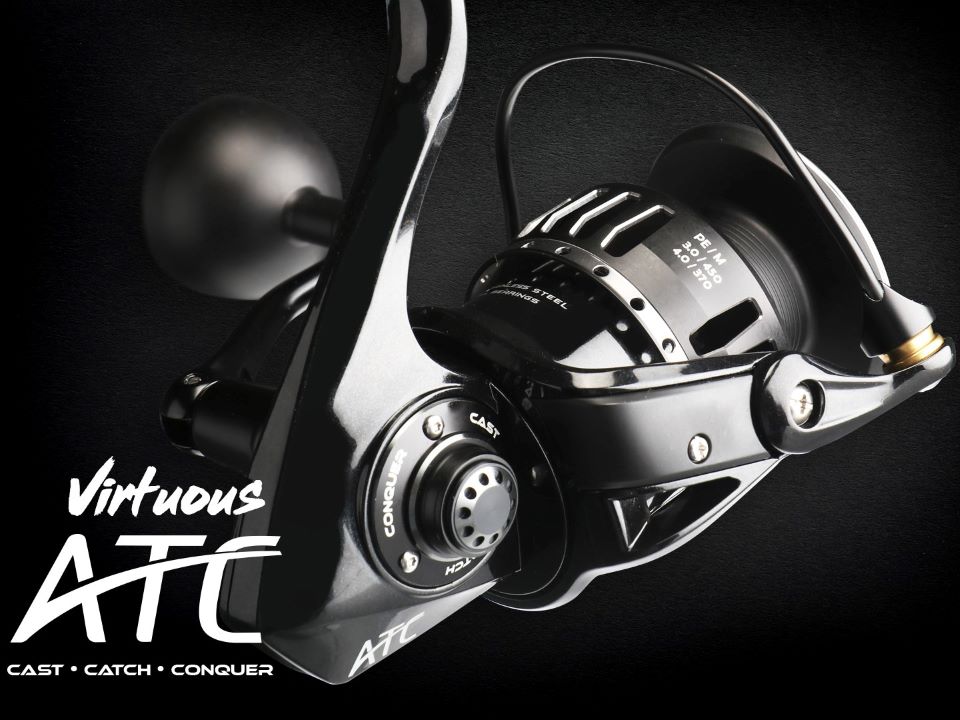 ---
Come test this Guadeloupe spinning fishing tackle by discovering our lure fishing services :
---
Are you interested in an outing ?
Phone : (+590) 06 90 59 39 00
E-mail : julien.guidedepeche@gmail.com