---
LURE FISHING IN GUADELOUPE
---
Appropriate tackle is required for lure fishing in Guadeloupe. Of course, it should be strong enough but it's always a matter of compromising if you want to feel the fish at the end of the line. Needless to say our fish here in the Caribbean are strong fighters . Playing the fish on light tackle has always been my top priority. And I'll do my very best to treat you with a biggy. All the tackle is provided. You will have the chance to fight the fish with top quality reels and rods and a wide range of lures that hook up good ones. Of course, if you fancy bringing your own tackle, feel free.
---
FISHING TECHNIQUES
---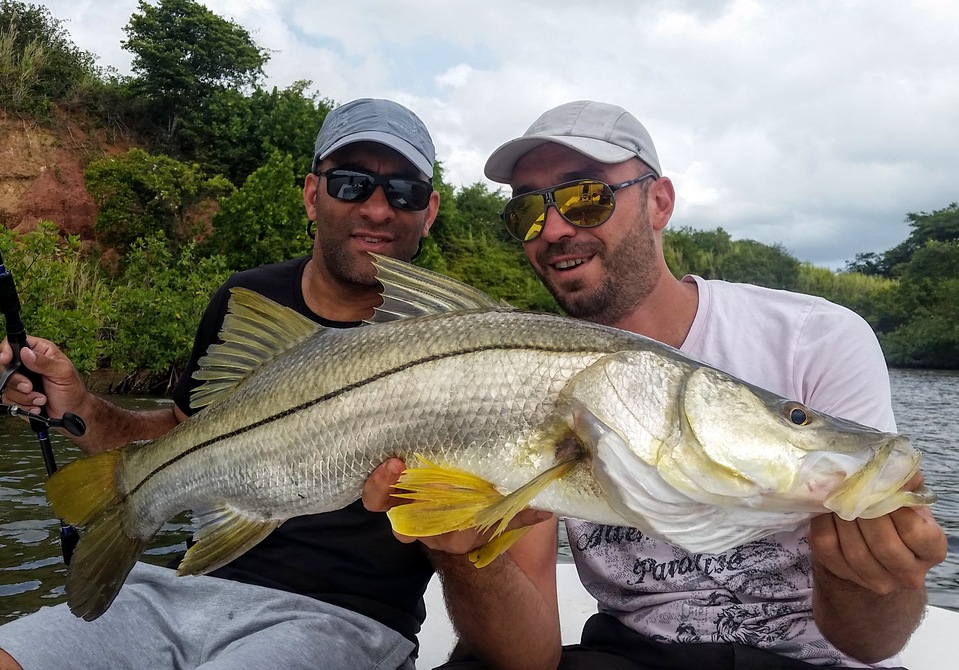 Spinning (casting and reeling in)
When it comes to fishing with lures, spinning is the most commonly known technique. It consists in casting the lure on a specific spot and reeling in. Linear fishing or jerking to imitate a dying prey both prove very efficient. It's real fun because you can use every kind of lure to catch fish. This is active fishing and it allows to scan a spot quite fast. You may use this technique in different places. You can track down predators hiding along the shore or under the mangrove trees. Of course, this requires adequate casting skills. We'll track down baby tarpons, snooks, dentex, jacks among others : a great multi-species fishing adventure !

This technique is also very efficient in the crystal-clear waters of the lagoon where we fish for predators like barracudas. Sight-fishing in the flats for barracuda on surface lures or bonefish on ultra light tackle is also a great experience. Watching the fish grab the surface lure is a tantalizing moment for every lure fishing fan !
---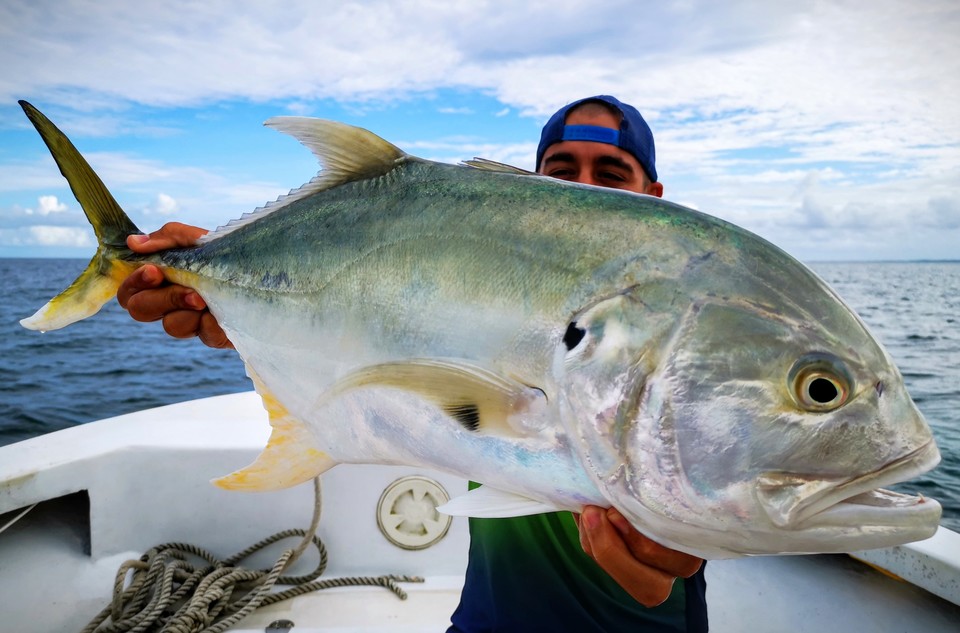 Bottom fishing (linear retrieve or vertical retrieve)
Some skills are required for this sort of fishing too. It consists in 'scratching' the bottom with the lure. The bottom may be (rocky. corals, sand or grass). The challenge is to 'scratch' the river bed and keep the line straight so as to 'feel' the lure. Schools of fish we are after lurk in the lower layer of the sea bed. Lures may be worked in different ways. Line retrieve may be linear near the bottom, You can jerk the lures too. Also, a smooth up and down movement is equally 'fatal'. Every fish species may be hooked up this way. We may be anchored up or let the boat drift with the current and the wind. Using a depth sounder is very useful to probe the bottom. (fractures, holes, shallows). It's a must to spot forage fish and the biggies lurking under the boat.
Linear retrieve and long-distance casting make it possible to scan large spots. Vertical fishing pays off too. We just have to let the lure sink right under the boat. This has proved to be one of the most rewarding techniques when fishing deeper waters in the lagoon. The water there is from 7 feet to 50 feet deep. This technique has worked wonders near the shores or in the larger rivers too. To reach the bottom, leaded soft lures, metal lures or even lipless lures are most commonly used. Adapting your tackle to the weather conditions, depth and current is the key to success. This technique relies on a fine special touch and light gear. It offers great fishing moments and great sensations and… fun ! Jacks, snooks, dentex, baby tarpons, bonefish and barracudas, among others, are great fish to play and fight with !

---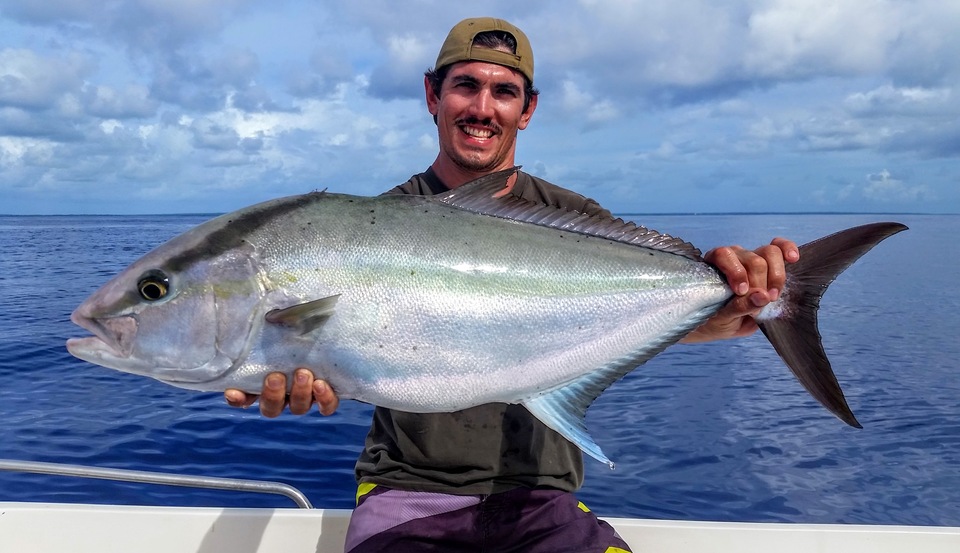 Jigging
A jig is a lure that's made of lead only. The heavier the lure, the deeper it sinks. So, It allows to cover every depth and hopefully lure every hungry or aggressive predator that comes along. Whether you're anchored up or drift, energy and strength is often necessary to work a jig. You just have to drop the lure right under the boat and let it sink to whatever depth is suitable. As you reel in vertically, you will hopefully get a bite on this artificial bait. At that moment, you need to be focused on any twitch on the line to hook the fish properly.

Lure size and weight depend on depth , current and the fish we're targetting. Having a depth sounder is also very useful when you jig. Depending on the lure you fish with, we provide you with the suitable reels and rods. You may fish like that in the lagoon. You can also use this technique off the coast not far from the rocky drop-offs. It can be more than 300 feet deep. Lures weigh up to 7 oz ! A great amount of fish abounds in the coral reef barrier all around our island. When you jig in those spots, you can definitely catch the fish of your dreams. Massive, heavy, powerful fish can test your drag ! Many different species are targetted : Jacks, dentex, barracudas and the challenging king mackerel !
---
Trolling (holding the rod)
This fishing technique is basic and very efficient. You can troll wherever whenever you want provided the spot is not too busy. It allows to scan rapidly a large area. We often troll when moving from one spot to another. The engine is on, you just have to open the pick-up , release 20 to 30 meters of line and then close it. Most of the time, hard lures are used for trolling. Every lure is different and has its own potential. We try and change lures until we find the lure that works on that special occasion. Leaded soft lures or metal lures can also be efficient. Careful : you should have a tight grip on the rod when there's a bite as the fish here is definitely very very…. powerful !
This technique is great for beginners and others. It's a great way to start fishing. You can hook up jacks, barracudas, baby tarpons and king mackerels quite easily !
---
Discover lure fishing in Guadeloupe.
Phone : (+590) 06 90 59 39 00
E-mail : julien.guidedepeche@gmail.com